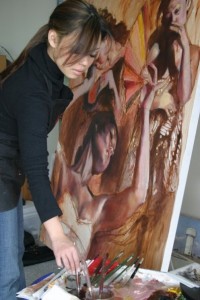 I welcome art commissions of any kind ranging from oil paintings to charcoal and graphite drawings. I work on surfaces such as canvas, linen, different paper types, etc.
Commissions can include portraits of family, friends, pets, places you've visited, architecture, or simply a favorite picture you'd like to have a painting or drawing done of. Please see instructions below on what I will need from you before I can begin the commission.
Instructions for Art Commission:
All I need to begin with is a good photograph of the subject you'd like to have done, and a small non-refundable deposit which is applied toward the total purchase price of your painting. Afterwards, we will discuss the following:
1. Exact size of painting(s) or drawing(s)
2. What medium? (Oils, charcoal, graphite, etc.)
3. What type of painting? (portrait, landscape, etc.)
4. What is the subject matter and how many? (people, animals, houses,etc.)
5. Please email me digital image(s) of the subject
6. Include anything else you feel that I might need to know.
Once I receive the information and deposit, I will give you an approximate time frame for completion. I will also email you digital image updates to show you the progress of your commission.
If you see any artwork that you like in my collection, but that particular piece has been sold, I will be happy to reproduce one similar or in a different size.
I will certainly do the best I can to produce a work of art you will really enjoy and be proud of. But, if for any reason you decide the finished product did not meet your expectations, and I have tried everything I can to fix it, you are not obligated to purchase the piece.
Thank you for considering me for your commission project.