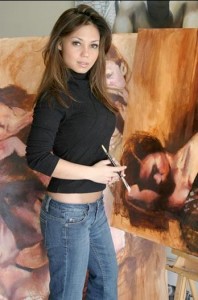 Sahara Harrington was born in the colorful and culture-rich town of Jogjakarta, in the south central region of Indonesia. Her father, who came to Indonesia from the US in the early seventies, possesses great skill and talent in the fine arts. Her mother, a native of Jogjakarta, performed avidly in the local music, dance, and theater circuit since a very young age. Art surrounded Sahara and her five siblings in many forms as they were growing up.
Barely older then a toddler, Sahara herself began to train in the art of Balinese dance, a cultural dance native to the paradise island of Bali. Bali is best known today for its beautiful beaches and perfect surf. The dance itself, however, is a mystical art form that has mesmerized and inspired painters, sculptor, poets, and musicians both local and from far and wide for many centuries.
Sahara followed the footsteps of many great artists of past generations and found her inspiration in the Balinese dance and its performers. She watched them come to life on her canvas as the music of the gamelan wove itself into the strokes of her brush.
At 16, she came to the States to experience life as an American teenager. There she explored and experimented the different art forms. She tried music and theater and studied different styles of western dance, while still maintaining her skill of the eastern dance. Of all the arts, she pursued the most in depth her relationship with the canvas. Sahara received her first formal training from the unconditionally devoted Marilyn Guerinot. Guerinot at once realized Sahara's potential and nurtured her talent by educating her in the theories and fundamentals of painting and drawing. Under the guidance of Guerinot, Sahara entered and won various state and nation wide art competitions and was offered her first commission piece at the age of 16.
Sahara went to pursue and complete her BFA at the Maryland Institute, College of Arts in Baltimore, Maryland where she was awarded various Merit based scholarships. While attending university she participated in several group exhibits and continued to accept new commissions. As her technique matured, native cultural influence became the dominant subject in her work. Familiar patterns and earth tones of Indonesian batik combined with transfixed, loud and exaggerated poses of women figures immersed in a silent void.